It's spring time and all our thoughts are getting ready for the summer. Plant the garden, clean the house, and getting the barbeque hot. But all these things take preparation and planning to do them right. Making sure your boat and motor are ready that first summer weekend takes planning too. Even if you stored her right, she still needs the engined check out before you put her in the water. None of us wants to paddle back to shore because the motor wouldn't start.
So think Spring and arrange for a Spring Check-Up with us.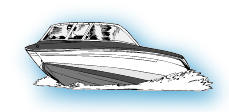 We will:
Drain the antifreeze if appropriate
Check and Charge the battery
Test and Run the engine
and its a great time to change those spark plugs
We also do a quick check around the boat for frayed ropes, deflated trailer tires, and anything else that might ruin your weekend. Price varies. Call (603) 224-0171 or email with details to: quote@Haggettsmarine.com
And when winter comes...we can winterize and store your boat for you as well.
If you have stored your boat with us over the winter, remember we offer delivery service to most lakes in NH for a small fee. Delivery can be arranged for weekends or evenings as time permits.